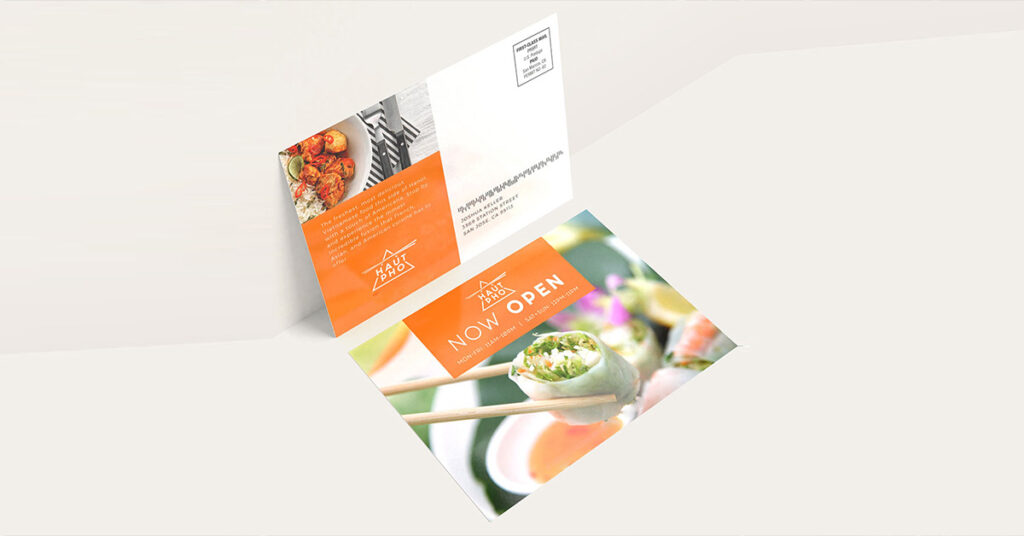 In the New Year, consumers are still likely to buy a product or take advantage of a special thanks to a strategized and targeted direct mail marketing campaign. Direct mail strategies are used by every type of business from supermarkets to restaurants, car dealerships, and pay-per-click advertisers that send coupons to clients. Businesses can use their direct mail campaign to announce the opening of a new store or upcoming sale while also providing discounts for a particular service to a targeted group of consumers. The growth in foot traffic or sales can highlight the direct mail ROI of the campaign. Keep in mind that a direct mail marketing campaign is able to target a narrow or large group while still being cost-effective if executed properly.  
In this article, we will answer the question, "How effective is direct mail marketing?" and discuss the right direct mail marketing strategy for your business.
Direct Mail ROI Is Better Than Many Digital Mediums
Even in the world of digital marketing, direct mail remains highly effective. The ROI (return on investment) of the campaign measures its success and it is calculated by dividing the total amount spent on the campaign by the total profit that was earned by the campaign. In order to see the most success from a direct mail campaign, it is important to understand how to calculate the ROI while also knowing the desired return you hope to gain from an investment.
In order to improve the effectiveness of your direct mail campaigns, you need to track the results on a regular basis using qualitative and quantitative metrics. In addition, you should experiment with different offers, messaging, and creative materials to determine the marketing message that works best with your customers. Plus, you should segment target audiences in order to maximize their response rates and sales conversions.
Effective direct mail strategies include sending personalized messages to specific customers, making the CTA (call to action) easy to execute, and offering some form of incentive to consumers.
In general, advertising through direct mail can provide a great return on investment if you experiment with different strategies. Your business can increase your sales and profits and grow your customer numbers.
Now that you know about direct mail ROI, let's discuss the costs of direct mail.
What Are The Costs of Direct Mail Strategies
Direct mail marketing is a popular way to reach potential clients, customers or donors as long as you consider the costs associated with it.
Design costs are an important expense since the materials need to be attractive and easy to understand. Hiring a professional graphic designer or copywriter helps to create an engaging message. You can also use stock photos or illustrations to add some professional appeal to your design (if you don't mind purchasing them at an additional cost).
Some of your additional costs will include marketing copywriting services and mailing lists. When it comes to mailing list costs, It is also important to decide whether to buy or rent a list and the decision depends on the size and scope of your campaign. Renting a list means you need to factor data appending costs into your budget.
Printing costs include the type of printing material used and the postage cost per piece for the campaign. The number of pieces printed impacts the cost per piece while distribution costs include postage rates and delivery fees that vary by the size and weight of the mail pieces.
Consider all of your expenses when planning a campaign to ensure you maximize your budget for success. Below, we cover five direct mail strategies that maximize your direct mail ROI.
5 Direct Mail Strategies That Maximize ROI
To reach potential customers and influence their purchases, an effective direct mail strategy combined with tracking and analytics to measure performance help inform your strategy.
Understanding your audience is vital to creating a successful direct mail campaign. Surveys and questionnaires help you gain valuable insights into your target audience. You can then design and create a direct mail piece that increases the likelihood of success.
Personalization can include adding the name of the recipient to the mailer or customizing the content based on collected data.
Targeting your audience multiple times makes sure your message is delivered successfully no matter the size and diversity of the audience.
Proper timing is a key element for any direct mail strategy. Knowing the purchase decision timeline for your target audience can help you time your direct mail to reach them at the appropriate moment in their journey to becoming paying customers.
Track ROI with tools such as Advertisers Connects to measure performance. This can help you identify which direct mailers are most successful in achieving the desired results.

Now that you know the answer to "How effective is direct marketing?", call us about planning your next campaign.
Contact Us Now for More Information
Phone:
(314) 652-9924