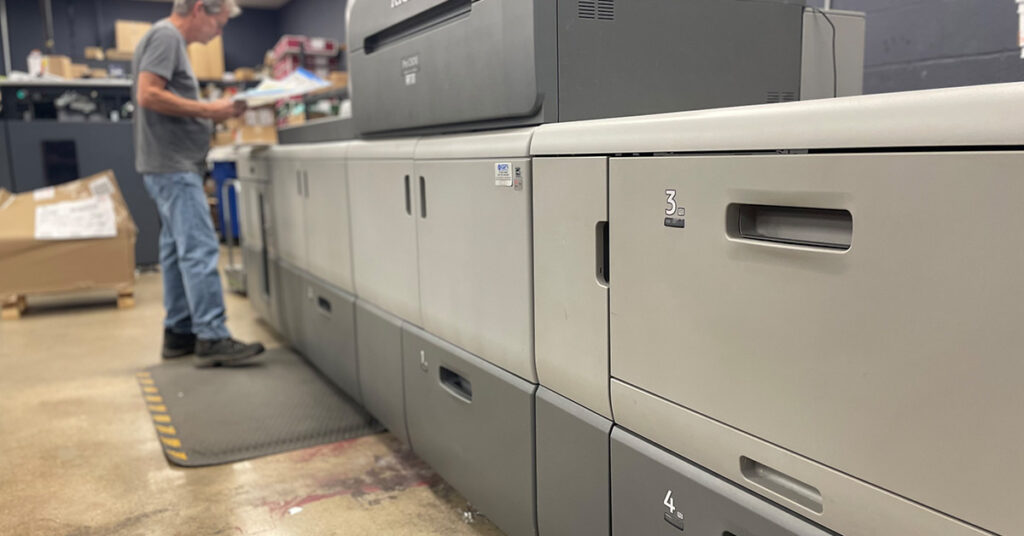 Print marketing is alive and well as thousands of companies send printed mailers each week. Print advertising can help businesses like yours bring in more customers and grow both your foot traffic and sales. You have the ability to use marketing methods such as direct mail marketing on the same playing field as bigger companies through the power of print marketing.
There are multiple print marketing options available to you such as postcards, booklets, business cards and posters. While much of the focus in the marketing world has been on digital marketing and social media for the past few years, print marketing campaigns are still important but you need to make sure and avoid mistakes that can prove to be both costly and time-consuming for your business.
Take a look below to discover the three most common print marketing mistakes and how you can learn from them.
Don't Make These Direct Mail Marketing Mistakes
When it comes to direct mail marketing, avoid these mistakes that can have a negative impact on your campaign:
Direct Mail With No Defined Goals
When planning your campaign, set your marketing goals and be clear about how you are going to measure the success of your marketing strategy. Once you have identified your goals, you can accurately measure your level of success in reaching them.
Don't Pick the Wrong Audience for Your Campaign
You need to perform proper market research, dive deep when analyzing the data, and build segments that work together to highlight your target audience. In order to make direct mail work for you, tailor your message correctly as the right audience can quickly become the wrong audience if you try to reach them at the wrong time. Make sure the timing for your message is correct. Know when the mailer will land and make sure it complements other events, matches the mood of the season and is also in tune with where the customer is at in the buying decision.
No Clear Call to Action
A muddled or unclear call to action (CTA) can spell the end of your direct mail campaign. Your direct mail piece needs to contain one call to action that will not be confused by other requests or calls to action. Keep in mind that an easy to remember call to action makes it more likely that your audience will perform the desired action.
The problems that hamper a direct mail marketing strategy are not all that different from the ones that cause other campaigns to fail. Study the mistakes of others so you produce a direct mail piece that delivers the desired results.
Print Advertising Design Mistakes
A simple and clear design makes it easy for consumers to understand your message. Avoid the print advertising design mistakes described below:
A Design That Is Too Busy
Just because you have a lot of extra space in your design does not mean you have to use every inch of the space. Providing too much text and graphics can backfire and cause your design to suffer from information overload. White space can draw the eye and serves as a powerful print marketing tool. Your design needs to be eye-catching as well as clear and concise. The information in the design should be organized and follow a clear logic. Work with a professional designer to get it right the first time and avoid having to spend money on revisions in the future.
Not Clearly Understanding Technical Elements
Depending on the print marketing materials you want to create, you will need to keep various technical considerations in mind. While your images will need clear formatting, printed materials come in different sizes and the final size depends on the type of printed material you want to produce. Please remember that the printed material choice will also have an impact on your formatting and the durability of the product.
No Clear Call to Action
As mentioned before, this is very important and if you don't include a clear CTA, you are wasting time and money.
Now that we have covered design and direct mail mistakes, it is time to reveal what might be the biggest print advertising mistake you can face.
(Spoiler Alert: It's You!!!! Take a look below to learn how to get out of your own way.)
The Biggest Print Advertising Mistake Is Trying To Do It All Yourself
Many business owners make the common mistake of trying to perform all marketing tasks on their own. There are some marketing aspects that you might be able to handle by yourself but there are other tasks (including print marketing) that require a greater level of in-depth knowledge and skills than the average business owner might possess.
By investing in the services of a professional print partner or graphic designer, you will be able to produce high-quality products on the first try. Print shops can offer a wide array of services and advice. They can determine the best format for you to use, choose the ideal paper stock, and even show you samples (such as special finishes and business card slits) that elevate the look of your final product. If you are inexperienced when it comes to print marketing, a printing service can help you avoid costly mistakes that will need to be corrected.
Advertisers Printing can help you with all aspects of print advertising. Contact us today!
Contact Us Now for More Information
Phone:
(314) 652-9924