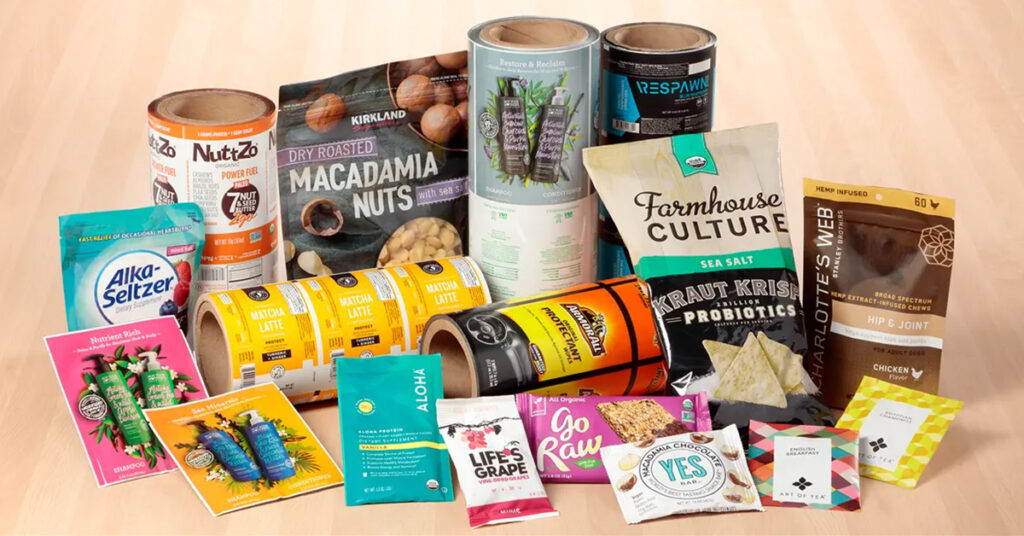 The world of packaging is a busy one as there are multiple types of flexible packaging and the creative possibilities are unlimited. Flexible packaging printing is a hot market at the moment thanks to its versatile design options and cost-effectiveness.
Our online research about printed flexible packaging shows a disconnect between what customers are looking for and what they can easily find. In order to make the packaging process easier for you, we created this article to show the different types of available flexible packaging, the options you have for different packaging choices, and some necessary context to help you make the best packaging decision for your product.
What is Flexible Packaging?
When researching flexible packaging online, you will find a variety of answers that don't always tell what flexible packaging is and how it benefits you. They might give you information about types of flexible packaging materials and/or a few examples, but the information cannot be described as being comprehensive or definitive.
Don't worry—We are creating a definitive source for you!
In general, flexible packaging printing is the use of a non-rigid material to enclose a product.
It really is that simple. As long as the package does not have a rigid structure, it can be considered to be printed flexible packaging.
What Types of Material are Used for Flexible Packaging?
While you might not be concerned about the actual material used in flexible packaging, it is helpful to have a list for when you want more information. Material choices include:
Linear Low-density Polyethylene (LLDPE)
Bi-axially-oriented Polyethylene (BOPE)
Low-density Polythene (LDPE)
Bi-axially-orientated Polypropylene Polymer (BOPP)
Biaxially-oriented Polyamide (BOPA)
Biaxially-oriented Polyethylene Terephthalate (BOPET)
Additional Laminates
Let's move on to the primary flexible packaging categories and share some examples of these categories.
Pouches or Pouch Packaging
One of the most common and popular flexible packaging options is pouches. While this type of packaging is used for different products, many people are used to seeing it in the food category. Pouch packaging can store products and also seal in the freshness of a product by using a grip seal, spout and cap fitments, or heat sealing.
Examples of Pouch Packaging
Drink Pouch
Standup Pouch
Vacuum Pouches
Retort Pouches
Lay Flat Pouch
Four-Side Sealed Pouches
Spouted Pouches
Bottom Gusset Pouches
Flat Bottom Pouches
Side Gusset Pouches
Pillow Pouches
Three-Side Sealed Pouches
Custom Pouches
Sachet Packaging
Sachet packaging is a versatile option that also allows for creativity in the packaging. Sachet packaging refers to packaging that contains a small quantity of a product. The packing is often designed so it can easily be torn open as well as provide easy access to the product. Some of the industries that use this type of packaging include cosmetics, powdered drinks, vitamins & supplements, and nutraceuticals.
Sachet Package Examples:
Contour Sachet
Standard Sachet
Multiple Sachet
Magazine Sachet
Onpack Sachet
Tissue Sachet
Wrappers
Wrappers are one of the most common forms of packaging and they can be found everywhere. Some of the products that use wrappers for packaging include fast food restaurants, candy, protein bars, and some bottles. You can be very creative with your custom wrappers and use them as a protective cover, a decorative touch, and also showcase or advertise your brand. Wrappers are another way to engage the public and stand out in a crowded marketplace.
Film Roll Labels for Packages
When it comes to film roll labels for packaging, this category also includes pressure sensitive labels. While packaging often totally covers a product, there are other packaging options that are simply adhered to the product which makes the exterior the actual packaging. Film roll labels are made to fit the contours of the product and they also make use of all of the available space on the product.
Film Roll Label Examples
Shrink sleeve labels including beer and soda cans
PP labels (Polypropylene labels) such as barcodes on industrial packaging
PE label (Polyethylene labels) can include outdoor labels, electronic labels, glass bottles, and labels for detergents & soap
Self-Adhesive labels can include wine bottles & food packaging
We hope this comprehensive guide to the types of flexible packaging you can choose from provides you with the necessary information to make the best decision on how to move forward with your packaging project. If you have any questions or need help with your packaging, get in touch with us today.
Contact Us Now for More Information
Phone:
(314) 652-9924