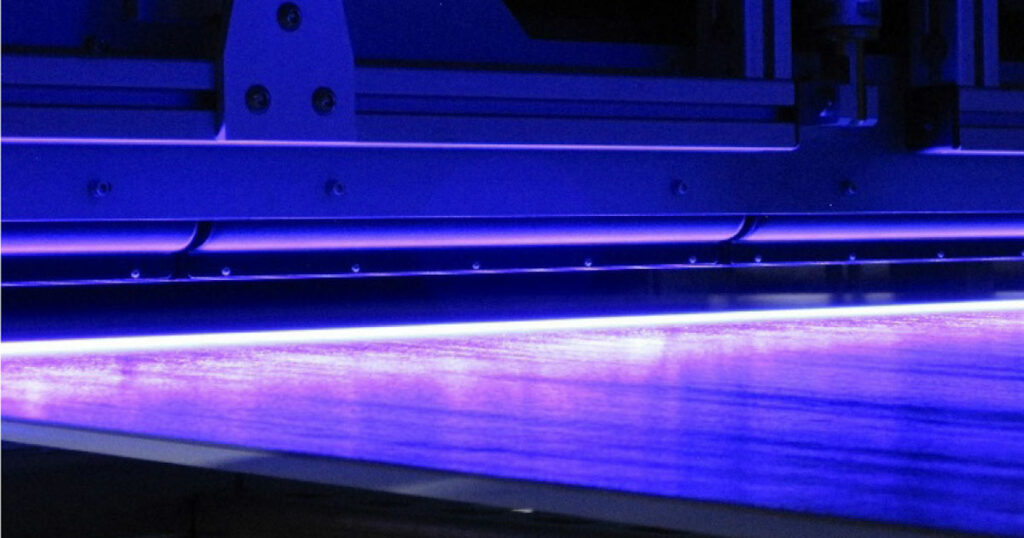 When printing with conventional inks, it's common for customers to request that their projects have an aqueous coating added during the process to make their pieces more resistant to scratches and scuffs. However, there are some drawbacks associated with the use of aqueous coating that, until now, haven't had a comprehensive solution to resolve. 
Enter: Advanced LED-UV Curing Technology. Because Advertisers Printing offers LED-UV curing on our newest press, aqueous coating is no longer needed on the vast majority of projects, and our customers are able to receive higher quality pieces, faster, and in a more environmentally friendly way. Here are five of the biggest benefits that go along with replacing aqueous coatings with the LED-UV curing process. 
UV LED Printing Benefit #1: Reduced Cost – Passed on to YOU! 
You may be curious if leveraging this cutting-edge technology comes along with an increased price tag or some kind of catch. The good news is that the cost of printing with LED-UV is comparable to the cost of printing with traditional offset, so you're essentially getting a number of new perks without a big price hike. The other good news is that, for legacy work, we will trim 5% off the bill when you choose UV LED printing over aqueous coating.
We're already well known for our exceptional turnaround time – now we can take it to a new level! The LED UV printing process enables instant curing (drying) of both sides of the print sheet, eliminating any wait time before the job can be sent off for finishing. The RMGT's Insta.Color automation also cuts make-ready (setup) time by ⅔. Combined, these features make the UV printing process more efficient on the front end and the back end, and throughput time can be decreased by 1-2 days on a variety of jobs. That means, depending on the project, you can expect to receive your printed materials 1-2 days faster when you choose LED-UV over aqueous coating.  
UV LED Printing Benefit #3: Greater Levels of Consistent High Quality
In keeping with our reputation for consistent high quality, instant ink curing via LED-UV allows you to achieve harmonic color (live job matches the exact color specified in the sample) on any substrate. In fact, the only way to achieve harmonic color on uncoated paper is through the LED-UV process. With aqueous coatings, if there is even a slight hiccup such as the coating soaking too much into the paper or ink, there's a greater chance of "dry-back" where the ink dries faster than it should. Dry-back often results in colors that don't match up and gloss levels that are lower than desired. 
Eliminating aqueous coating and choosing LED-UV also permits you to see the contrast between the ink and the substrate being printed by setting the inks before they have a chance to set in. As our designer and creative friends know, this is another huge benefit as contrast is crucial for creating eye-catching pieces that "pop."
This separation also means that the ink-layer thickness is rock hard, making your pieces resistant to fingerprints, scratches, and scuffs during the mailing process and post-delivery. Plus, with LED-UV curing, there are almost no limitations to the types of special effects and superior finishes you can experiment with to enhance your print communications. 
UV LED Printing Benefit #4: Reduced Environmental Footprint
LED-UV curing aligns with our commitment to sustainable operations, providing several significant advantages in this area. The LED-UV process does not emit any ozone and LED-UV inks are 99% VOC (Volatile Organic Compounds) free, compared to conventional inks which can contain up to 30 times more VOCs.
In addition, the LED-UV curing system consumes 90% less power than a conventional arc lamp system, and the press uses 20-25% less energy than the smaller offset press it replaced. The press also allows for a 70-75% reduction in make-ready (set-up) material spoilage on everyday jobs.
When comparing these energy efficiencies against the use of aqueous coating, the manufacturer of the press notes that LED-UV "uses 75% less energy than single-side presses that use aqueous coating." Zero ozone emissions, minuscule VOC release, and much greater energy efficiency are some of the biggest sustainability attributes of using LED-UV. 
UV LED Printing Benefit #5: Health and Safety
As mentioned above, LED-UV inks are 99% VOC free, while conventional inks often contain a much higher ratio of VOCs. Because the GEW LeoLED Modular Lamp Array immediately sets the inks, the trace amounts present in LED-UV inks are not released into the air. This is important from a safety standpoint, as our pressmen typically work 8-10 hour shifts and maintaining the health of our staff is one of our top priorities.
Of course, our workspace also complies with OSHA guidelines regarding indoor air quality and ventilation systems so that our staff are safe no matter what type of project they're working on. LED-UV curing just means less pollutants to filter out and less of the strong odors associated with aqueous coatings and certain types of varnishes. 
It's important to note that, while we hope you don't have to use it, we still retain the ability to print with aqueous coatings. For small or personalized runs, the application of such a coating is still a viable technique that can ensure the longevity of certain projects.
Have any questions about the benefits of LED-UV printing or want to bounce some project ideas off one of our print strategists and receive insightful feedback? Contact us today and we can schedule a time to chat soon!