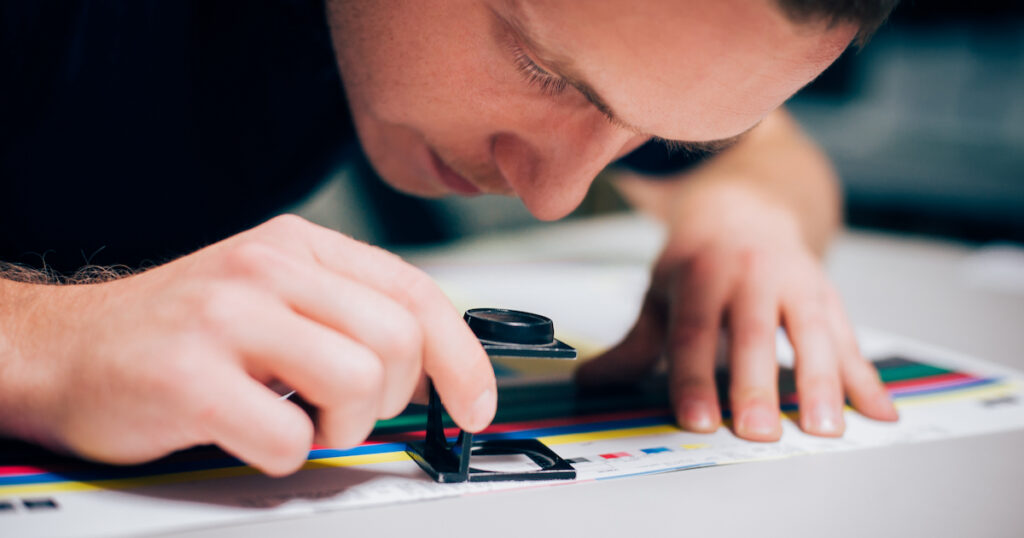 Whether it's your first time working with Advertisers Printing or your fiftieth, our team is always fully on board with helping you achieve your vision of gorgeous and effective print communications that garner attention and reach your goals. That's why we highly recommend tapping into the deep expertise of our print strategists when you are in the initial planning phase of your next print project. By leveraging their knowledge about the latest innovations in print, you'll end up with phenomenal finished products that elevate your brand and better align with your other avenues for business growth.
When you reach out about your next project, you don't have to have all the details figured out – our print strategists bring significant value to the table when they are included in the planning process to help you brainstorm ideas, make technical decisions, and devise strategies for achieving your goals! Here are a few ways our print strategists support your print communications for maximum success.
Print Strategist Factor #1: Asking The Important Questions
When you engage with one of our experienced print strategists, they will ask you some questions up-front to help get a better picture of what you're trying to accomplish. For example:
Who is the intended audience for your print communications?
What action do you want them to take after viewing your message?
For what period of time will each piece be used?
How will your print communications be distributed?
What quantity is needed for this project?
How will you track the success of your print campaign?
Oftentimes customers come to our print strategists with a concept of how they want their project to look and what the desired outcome should be, and then our team is able to build upon their ideas and talk through the details until a solid plan is in place. Then it's onto checking artwork files and beginning the first stages of our comprehensive quality control process.
Print Strategist Factor #2: Providing a Custom-Tailored Experience
At Advertisers Printing, our clients range from solopreneurs to Fortune 500 companies. The number one thing that all of these relationships have in common is our unwavering dedication to providing a bespoke experience for each and every company that chooses us as their trusted printing partner. No matter the size, industry, or mission, our top priority is the success and satisfaction of our clients.
Drawing from that mindset, our print strategists get to know your business – and you – inside and out in order to engineer your projects so that they achieve their full potential. They will also assist in fine-tuning the specs of your project to make the most efficient use of our paper stock, inks, etc. to save you time and money in ways you may not have thought of.
Our team loves sharing knowledge and educating people about the best techniques and materials that modern printing has to offer. Unsure of the difference between cast-coated and gloss paper? Want to experience what reticulated varnish feels like? Curious about different metallic inks? Our print strategists will mail or even swing by your office to deliver print samples so you have an accurate idea of the options you have to work with.
Every one of our print strategists is a creative problem solver who will go above and beyond to get you what you need. Our team is adamant about maintaining the quality of your project through each stage of the process while respecting your time by beating deadlines and keeping everything on schedule.
Print Strategist Factor #3: Assisting With Marketing Strategy
Another way in which Advertisers Printing isn't your average print shop is that, in addition to our skills in the art of printing, we're also able to tie our print projects into a range of high-caliber marketing solutions. Whether you need help on the front end with list acquisition and client profiling or you'd like to set up lead scoring and triggers to identify hot prospects, our print strategists will work with you to design a path toward direct, measurable results.
Our team can get you set up with the Advertisers Connects platform which helps track the effectiveness of your direct mail, follow up with prospects via social ad retargeting, and show you campaign results 24/7 on a digital dashboard. The platform even enables you to install a pixel on your website so you can automatically send bounced visitors a personalized direct mail piece. Afterwards, our print strategists will ensure that you're able to see your post-campaign results such as improved engagement, boosted revenue, or increase in brand awareness.
Print Strategist Factor #4: Incorporating Relevant Mailing Requirements
Our print strategists recognize that most people aren't experts on the ever-changing rules surrounding direct mail marketing and associated postage costs/regulations. Many printing companies don't offer in-house mailing services – we do. No matter if you're looking to do a flat or dimensional mailing, small run or massive campaign, our team can help you understand the process and navigate the complexities of mailing print communications.
Your reliable print strategist will make sure your project is aligned with the best method for distribution, confirming that it meets the necessary requirements/regulations for faster delivery and lower postage costs. Our team will also carefully assess your mailing list, checking that it's clean, certified, and free of any duplicate records. If you're looking to send a campaign across a variety of states and zip codes, we even have access to special USPS commingling discounts that allow you maximize postage savings on your direct mail efforts.
Ready to strike up a conversation about how we can help bring your vision for eye-catching print materials to life? Our print strategists are eager to collaborate with your team and start planning a beautiful print project that will support your goals for business growth. Contact us today and we can schedule a time to chat. Let the brainstorming begin!