U.S. Paper shortage in the printing industry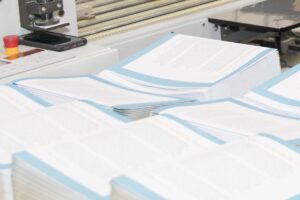 Remember the rush for toilet paper in March 2020? Empty shelves were an unpleasant greeting for all of us in the early months of that year. No one wants to return to those days. Beyond the initial crisis with toilet paper and hand sanitizer, the global pandemic has introduced many challenges in supply chain management for businesses in every sector. The printing industry is no exception. Printers across the nation now face paper shortages due to changes in the landscape of paper production globally and domestically.
What does this mean for you? Just being aware of the problem is a great start. Flexibility in paper choice is also important. Partnering with a supplier who can help you navigate through this in the project planning phase is essential. While these changes may present challenges, we have intentionally and strategically positioned ourselves to minimize any problems that you could encounter during a paper shortage. You don't want to panic over empty shelves. We don't want that either. So we've filled our shelves in advance. We are planning for the future to prevent problems for you. Our in-house solutions will minimize problems related to the U.S. paper shortage. Your relationship with us begins with your consultation with a print strategist, who works with you to avoid delays and other challenges.

Why is there a printing paper shortage?
When the pandemic hit, approximately half of the paper supply in the United States was sourced from Asia. Shipping rates from Asia tripled, causing the Asian mills to pivot and sell their paper in Asia and Europe and limit shipping to North America.In August 2021, Reuters reported on skyrocketing shipping rates from China, due to the rise in Delta-variant COVID-19 infections during the global pandemic. As shipping costs continue to increase and non-domestic supplies have dwindled, U.S. printers have turned to North American sources for paper supply. This brings us to the next break in the supply chain: the North American paper mills.
Unfortunately, at the same time that U.S. paper is needed, domestic paper mills have not been able to ramp up to fill the void. Mill shutdowns and capacity reductions have been taking place for years. North American mills' ability to quickly double their output doesn't currently exist and won't be remedied for years.

Advertisers Printing plans ahead with Paper Supply Chain
Facing a shortage without a clear plan? This could be a recipe for disaster. At Advertisers Printing we are planners and plan ahead with the paper supply chain. We plan for you. We pride ourselves in being a leader in strategic planning for the future. We are trailblazers in efforts for sustainability in our industry, community, and world. We continue this forward-thinking approach as we plan for the paper shortage. This allows us to continue to meet your deadlines as requested, without disruption to our processes or yours.

Sustainable print solutions are key to our success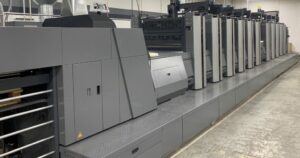 What can you do to minimize inconvenience? At Advertisers Printing, we have already invested in print solutions that optimize use of paper to minimize waste. Our state-of-the-art RMGT 9-series printing press uses AI to allow us to reduce the number of sheets needed for job setup. This means we have less loss from a paper shortage. The RMGT also prints both sides of the sheet in a single pass reducing running spoilage by half. That gives us the capacity to continue to meet deadlines, even when paper shortages may slow delivery times from other print suppliers. In addition to equipment, we have invested in our people, equipping our print strategists and machine operators with valuable knowledge to help you receive the best results.
Our sound decisions and investments in recent years enable us to:
Decrease time to market, even in the event of a delay in supply
Reduce paper spoilage
Maximize recycling options with our comprehensive in-house recycling programs
Provide you with a knowledgeable print strategist who can help you plan your projects in a way that minimizes supply chain issues

We help you plan ahead
We have done a lot of the planning for you. But you also need your own well-planned solution in the midst of a shortage. This is where our team enters the picture. Your relationship with Advertisers Printing begins with a print strategist. Our dedicated team member works with you to find the most effective and efficient approach for your printing needs, Our strategists are uniquely positioned to help you find a solution that will work. They may ask for flexibility and propose various options for the size and style of your project. Your strategist may have suggestions for types of paper that are most readily available at this time. We recommend working with one of our print strategists from the very beginning of any project. They can help you at the outset to plan for the best, most efficient, most effective results to support your business. In the midst of a paper shortage, this initial planning is essential. 

Local solutions for a global crisis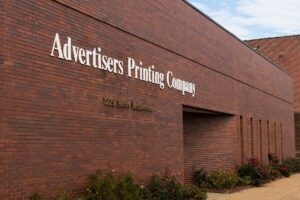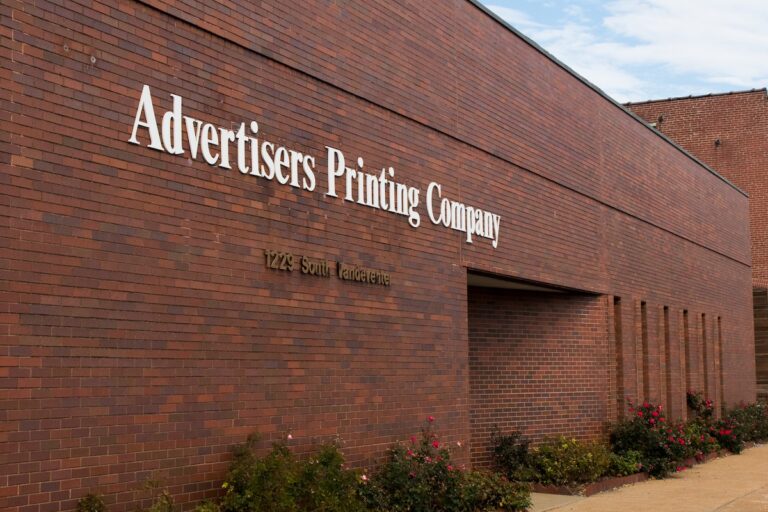 The facts are plain and simple. There is a printing paper shortage. Advertisers Printing knows and sees the market. Our knowledge is power for you.
We live in an interconnected global society. International shipping rates and the global spread of a virus have and will affect our access to goods, such as toilet paper or printing paper. On October 4, 2021, NPR reported that a widespread paper and cardboard shortage will affect book and board game sales for the holiday season. But, for your printing needs, there is no reason to panic over empty store shelves. We live in a global economy, but the best solutions are often local. We have already been planning for this shortage for months.
Through sound investments, careful in-house planning, and a focus on planning, we are well-equipped to weather this storm. Please partner with us to help us plan successful products for you.
If you find yourself with delays from other printers, contact us. Our strategic solutions may be the perfect fit for you.
The world is changing. Advertisers Printing is ready for change. We are strategic planners who will help you walk confidently into the challenges of the future.